Opening Times
Change to Opening Times
With the different operating hours and the darker nights, the gates will be locked at 6pm each evening with no access for vehicles left until 8am (or 9am on Sundays) the following morning.
Gates open at 8am Monday - Saturday and 9am on Sundays.
Gates close at 6pm every evening - please note that any cars left in the car park at this time will be then unable to leave until the following morning.
Flooding and Bridge Closure
The River Soar is prone to flood from time to time, making the area inaccessible and would lead to the closure of the bridge over the River Soar.
Please keep an eye on our website and Facebook page for flood updates and bridge closure information.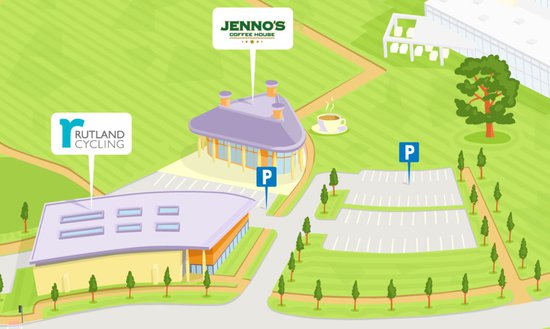 Parking
Bike parking
There are plenty of bike racks outside Jenno's Coffee House and Rutland Cycling store.
Car parking
Parking is free for the first 3 hours and no ticket is required as your number plate is captured on arrival as you drive in.
If you plan to stay for longer than 3 hours then please purchase a ticket on arrival. Parking fees apply as follows:
| Stay | Fee |
| --- | --- |
| First 3 hours | Free |
| Up to 5 hours (Maximum stay) | £3.00 |
| After 6pm | CLOSED |
The car park is pay and display, with your number plate being recorded by a camera on arrival. Please pay by card over the phone if you are able to - simply call 0203 046 0060 and quote the location code 21533. You can also use the RingGo app. Alternatively, you can use the machines to pay by cash and display your ticket. The machines are regularly emptied and sanitised but we do recommend you wash your hands/sanitise before and after use for everyone's safety.
Been at Meadows longer than planned? You can pay before midnight to avoid receiving a fine. Simply pay via phone, the app or at the machine before you leave.
Please read the car park signage carefully for useful information to avoid penalty charges. This is private land owned by Everards of Leicestershire and we have partnered with Smart Parking to bring in parking controls to ensure that spaces can be utilised by genuine customers. Parking is measured by the time of entry into Everards Meadows. If you have any queries please direct them to Smart Parking or Everards. Smart Parking share details of their appeals process on their penalty notice.
We charge for parking as this private land is maintained by our independent, family business.
The car park is closed with the gates locked overnight from 6pm.