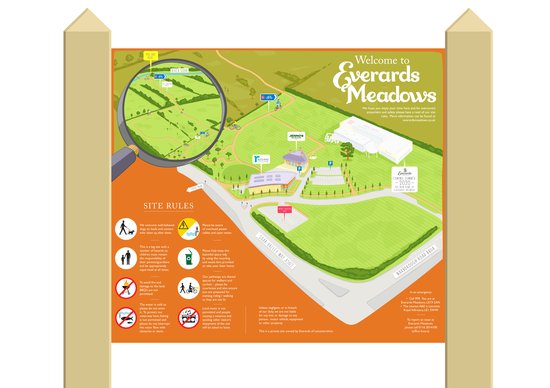 Everards Meadows provides 70 acres of beautiful green space to explore, with quality cycling and pedestrian walkways that connect to Route 6 on the National Cycle Network. The meadows are also a haven for wildlife, with a wide variety of birds calling it home. Look out for the bug hotels dotted around the meadows and see what wildlife you can discover.
You can walk or cycle across the meadows and along the Grand Union Canal, winding along the banks of the River Soar into Leicester City Centre or discover the stunning Leicestershire countryside.
Bikes can be hired onsite from award winning Rutland Cycles, who offer a range of bikes to suit all skills and abilities. Their experienced team are always on hand to provide you with bike advice and information on local cycle routes. Find out more.
Enjoy the beautiful views of the meadows whist you relax, eat and drink at your favourite local Coffee House 'Jenno's'. Alongside their range of premium drinks and tantalising homemade cakes, you can enjoy a light and fresh menu. Find out more.
Just a stone's throw away from Fosse Shopping Park, Everards Meadows is the perfect place to take a break, relax and refuel after a spot of shopping.
For Your Safety
We want you to enjoy your time at Everards Meadows, but we also want you to be safe and the meadows to remain a beautiful and relaxing space for everyone to enjoy.
Here are a few points for you to note, whist visiting:
We welcome well-behaved dogs on leads and owners who clean up after them.
Help us keep this beautiful space tidy by using the recycling and waste bins provided or take your litter home.
To avoid fire and damage to the land, BBQ's, campfires and fireworks are not permitted.
Our pathways are shared spaces for walkers and cyclists – please be courteous and also ensure you are prepared for evening riding/walking as they are not lit.
Everards Meadows is fantastic place for all ages to explore but has a number of hazards, so children must remain the responsibility of their parents/guardians and be appropriately supervised at all times.
The water is cold so please do not enter it. To protect our waterway here, fishing in not permitted and please do not interrupt the water flow with obstacles or dams.
Ball games are not permitted close to the parking areas or overhead power cables.
Loud music is not permitted and people causing a nuisance and spoiling other visitor's enjoyment of the meadows will be asked to leave.
Unless negligent, or in breach of our duty, we are not liable for any loss or damage to any person, motor vehicle, equipment or other property.
Everards Meadows is closed overnight so you are not permitted to stay.
Drones are not permitted over Everards Meadows.
In an emergency:
Call 999. The address is Everards Meadows, Leicestershire LE19 2AN
The nearest A&E is Leicester Royal Infirmary LE1 5WW
The company shall use reasonable endeavours to ensure the availability of all amenities advertised on this website or otherwise, but unfortunately cannot be liable for any changes or cancellations.
To report an issue at Everards Meadows, please call 0116 201 4100 or get in touch here
Everards Meadows is a private site owned by Everards of Leicestershire.